Welcome to the WOW -- a bold adventure in shopping, featuring cutting-edge home wares, imaginative art and gifts, zany novelties & hilarious greeting cards


You never know what you will discover when you visit WOW Factory, your cutting-edge shopping experience located in the picturesque village of Mount Dora, Florida, just a short 25-minute drive north of Orlando. Our far-reaching selection of bold, contemporary home furnishings, objects of art, gifts and novelty items (including America's most hilarious collection of greeting cards) is sure to tempt, tease and titillate you.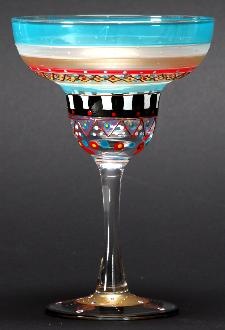 Our ever-changing inventory focuses on the best and brightest of 21st century American designers, as well as imaginative import teams. And whether you fall head over heels for an ultra-modern lamp, a retro-flavored clock, or a goofy package of "Cat Butt" chewing gum, a visit to WOW Factory is guaranteed to make you smile. (In fact, one of our store slogans is: "Still Only 5 Cents a Laugh." Pictured to the left is a stunning mosaic margarita glass hand-painted in America.

Founded in 2004, WOW Factory quickly became a major attraction for residents of and visitors to Mount Dora, a charming lakeside community with rolling hills, excellent boutiques and restaurants, and nationally renowned art, crafts and music festivals. Our town, often described as a New England village set in the heart of Florida, makes for a great weekend escape any time of year.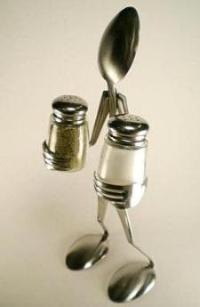 After taking a break to pursue other personal interests, proprietors John and Bill have returned (thanks in large part to the urgings of many of our fans and customers) to re-launch the WOW in its new downtown location at 117 East Fourth Avenue at Royellou Lane. We hope you will visit us there whenever you're in the Mount Dora area. And we're definitely worth a quick trip from Orlando and its theme parks. Pictured to the right is one of the many fun and functional table service sets we are offering from Forked Up Art. (American made.) These are whimsy at their boldest and brightest.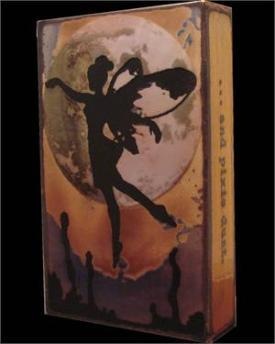 Among the numerous local and nationally renowned artists featured at WOW Factory is Houston Llew, whose dazzling Spiritiles are unforgettable in their beauty, their colors and their uplifting messages. Molten glass over copper, the WOW features dozens of the artist's tiles. Please contact us for a complete list. (Each tile is signed and measures 5.25 inches wide by 1.75 inches deep by 8.5 inches tall.) Spiritiles are wonderful in wall groupings or as individual pieces. The tile shown is titled "Pixie Dust." On the side panels it says, "The world is made of faith and trust and pixie dust." --J.M. Barrie (the author of "Peter Pan.") Like many of our customers, we at WOW Factory have never quite grown up...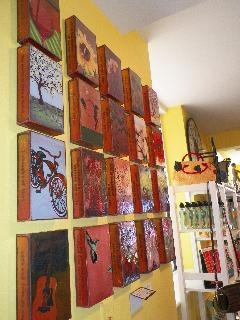 In coming days, we intend to showcase many of our specific gift and home decor offerings throughout this website (be sure to scroll through all the pages.) And we welcome your phone inquiries and orders. Call us anytime at 352-735-3035. Or email us at: WOWF@comcast.net . We also have a lively Facebook page, and we would love to have you join the fun and frequent updates. Just click on the link beneath this picture.


We invite you to visit and "Like" our fun and dynamic WowFactoryMtDora Facebook page. On our page you will find invitations to special events and photos of new arrivals. Just click on the "f" to the left, and we'll take you there.

Thank you for reading, and feel free to explore this evolving website (which is still under construction, as they like to say in cyber speak). Cheers,

Bill & John

WOW Factory of Mount Dora, FL. Phone: 352-735-3035

Email: WOWF@comcast.net